Industry 4.0 Technologies for Transforming Education in Sri Lanka
Sri Lanka is currently undergoing a very impactful social transformation. The people's movement which was driven mainly by youth in the country was able to carry out a regime change by removing a powerful president and an entire government in Sri Lanka in the year 2022. Currently, the country is undergoing a system change while still recovering from the political and economic crisis. The education sector is a key area which is driving this transformation. The Sri Lankan government and all key stakeholders believe that STEAM (Science, Technology, Engineering, Arts and Mathematics) education can have the potential to drive the transformation in the education sector including school, university and vocational education.

FabLanka Foundation, a not-for-profit Social Enterprise founded in Sri Lanka in 2016, has been working in introducing and popularising Industry 4.0 Technologies in multiple ways for socio-economic development in the island nation. As a part of that, FabLanka has been adopting Industry 4.0 technologies for different ways to transform education in Sri Lanka. FabLanka Foundation as the founder of first ever FabLab (Fabrication Laboratory) in Sri Lanka, "FabLab Makandura," has been popularising the idea of how Science and Technology Labs (S&T Labs) can contribute to this transformation. FabLanka is hosting this hackathon in this context.
What is Industry 4.0?
The Fourth Industrial Revolution, or Industry 4.0, is the digital revolution that is blurring the boundaries in between physical, biological and digital spheres. Industry 4.0 has the potential to change the lives of the billions of the people on earth positively if managed well. Technologies driving Industry 4.0 are Artificial Intelligence (AI), Robotics, Internet of Things (IOT), Autonomous Vehicles, 3D Printing, Cryptocurrency, and many more. However, one key challenge faced by developing countries such as Sri Lanka is regarding how to adopt such technologies proactively to derive the maximum benefits of Industry 4.0 while minimising social disruptions created by the same digital revolution which is already happening around the world. In countries like Sri Lanka, education can play a significant role in this process. Youth particularly should be educated on how to embrace Industry 4.0 technologies as a way of upskilling their expertise to face future challenges.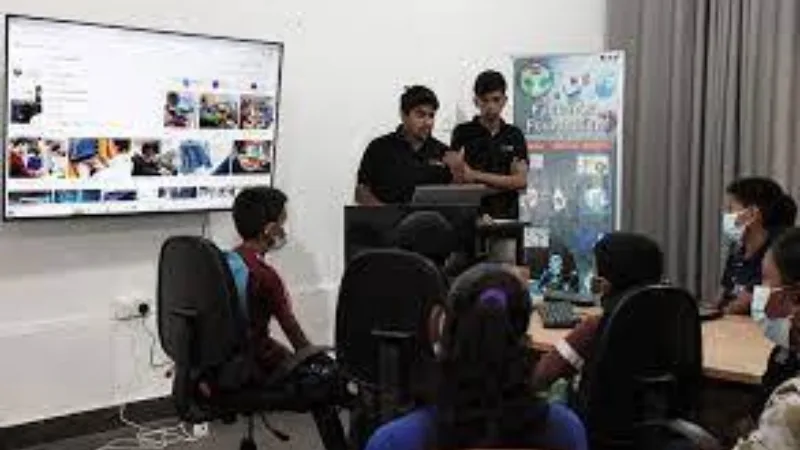 Who can join?
Teachers and/or educators
Digital education enthusiasts
11 - 12 NOV 2023
Register by

31 OCT
Blended
Sri Lanka - Sri Lanka
Category:
Emerging Technologies for Education
Challenge and goals
Your Solution should include answers to following questions:
1. What is (are) the most suitable Industry 4.0 technology/ies suitable and relevant to Sri Lanka, and why?
2. Who are the main target group of youth who should be educated on this/these industry 4.0 technology/ies?
3. How do you plan to implement these programmes and where?
4. How do you measure the success of your plans?
5. How do you ensure that these programmes are sustainable in the medium and long-term?
Expectations and requirements for the solutions and participants
You need to submit your solutions online at the portal by filling the online form in your participant login area.
During the Challenge Session on 11th or 12th November, 2023,  your team can present your idea to the jury in PPP or PDF format or as the Solution Canvas provided.
Each group will be given 20 minutes in total, as 15 minutes for presentation and 5 minutes for Q&A.
Youth, students, professionals, educators, and anyone else who is interested in shaping the future of education are invited to join as participant groups to solve the challenge.
Available Support
Telephone Support
Email Support
Pre- Hackathan Training Workshop ( Online and In-Site)