Connected Learners: Hacking the Online Learning Experience
An online course feels different than the one you do in a class with other students and a teacher present. It can be difficult to feel motivated enough to continue with course assignments and exercises on your own, without peer support. The feeling of community, its existence and its involvement, is extremely important, especially when working on something big, complex, and new. Extrinsic motivation and community support can help us to feel better along the study path and provide extra stimulation to continue the course. 
We are interested to see what could be done before, during, and after the online learning takes place to better support individuals in all aspects of learning. We want to explore the community aspect of online learning and discover the solutions that help learners support one another, lower dropout rates, and elevate both the students' and teachers' experience of online learning. 
How can we create a community that supports studying online?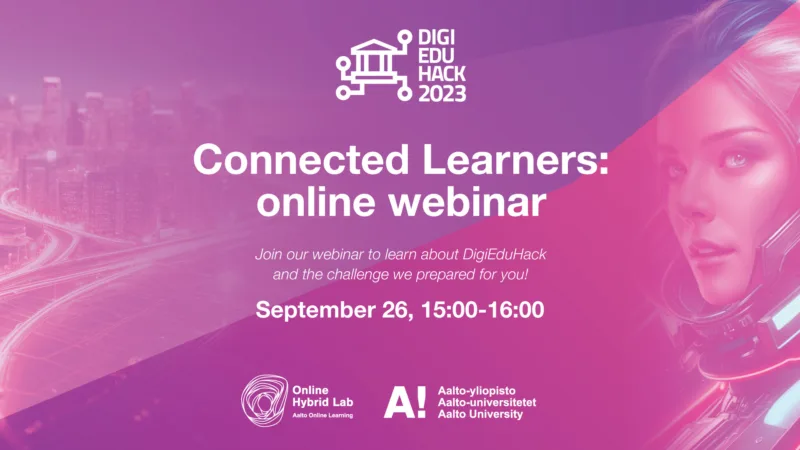 Who can join?
Teachers and/or educators
Digital education enthusiasts
Specific conditions to apply
We appreciate it if you have experience with online learning. Also we encourage you to work in a team of 3-5 people and consider having team members with different professional backgrounds and experiences. All members of a team need to be registered to participate the challenge.
08 - 10 NOV 2023
Register by

31 OCT
Blended
Aalto University, Otaniemi, 02150 Espoo - Finland
Category:
The Learning Experience
Challenge and goals
In this challenge, you'll propose and develop models, platforms, and tools to facilitate human connection, co-design, co-creation, and peer feedback within online courses.
We welcome ideas for improving students' introductions, brainstorming, collaboration, presentations, etc. Your solutions should help them feel motivated and engaged in exciting, productive ways.
Our main goal is to provide learners with an outstanding learning experience that makes them feel part of a community and fosters great group dynamics within an online setting.
Think about how members of a community could influence each other's experience, in asynchronous learning and across different time zones - Who are they, What are their roles, What is their motivation to contribute to community building, and How to support it?
Expectations and requirements for the solutions and participants
We seek bold, innovative solutions for online education. Expectations include:
Community-building ideas like ice-breakers, group discussions, and peer feedback.
Collaborative online learning with synchronous and asynchronous options for planning, creating, presenting, and discussing tasks.
Usable and accessible instructions for students and teachers.
'Outside the Box' thinking and boundary-pushing proposals.
Resourceful solutions suitable for multiple courses, considering limited resources.
Create posters, mock-ups, videos or working prototypes / MVP's to convey your solution.
Embrace diversity in group composition.
Available Support
​​Before the event, we will provide additional materials to illustrate the problem space as we envision it - with examples of current approaches and their existing challenges.
During the hackathon days, we will arrange inspirational talks and exercises for the participants to enjoy and to help the brainstorming begin. Participants will also be provided assistance from Aalto University's Online Hybrid Lab, who will be available to answer any questions you may have.
Come meet us and get to know something more about the challenge here!
Prizes
The challenge winner will get a chance to compete for the Global Awards of DigiEduHack 2023. We will also provide visibility for the local challenge winner via a blog post and social media. We will announce more prizes closer to the event.